From Vision to Victory: Core's Triumph as CRN Cloud Services Provider of the Year 2023.
We are thrilled to announce that our #OneCore team has been awarded the 2023 Cloud Services Provider of the Year in the Solution Provider category at the 2023 CRN Channel Awards last night! This accolade marks a significant milestone in Core's 32-year history, a testament to our relentless pursuit of excellence in cloud services and our unwavering commitment to delivering unparalleled value to our customers.
We are proud of this recognition of our exceptional commercial and portfolio success in 2022-23, with our portfolio focus on cloud products, solutions, and cloud-based managed services. Achieving over 30 per cent organic growth in 2022, and a continuation of our growth from 2021, our trajectory has been nothing short of remarkable; and deserving of recognition. The Core team go above and beyond for our customers and partners, with a vision to keep growing, and improving what we do.
Our strategy of investing in our cloud services team and enhancing our service offerings, in addition to greater support in sales and marketing, led to breaking 31 years of sales records in 2022. The synergy between our Sales, Marketing, and Operations teams has been instrumental in launching new solutions and services in 2022 and 2023.
Growth in Innovation
Innovation has been at the forefront of our growth. Unlike many tech businesses that experienced workforce reductions and revenue declines, we have continuously introduced innovative services to the market through our outstanding partnership with Microsoft. We took great strides in being first to market with Viva Quick Deploy solutions when Microsoft's cloud-based Employee Experience platform, Viva, was launched. We created and delivered new Smart Cloud Services in 2022 after to listening to the flexibility requirements of our customers, and we continue to invest in and deliver new Azure cloud services in 2023 including our enhanced Azure Managed Service and Azure Technical Assessment and Cost Optimisation (Azure TACO) review in 2023, with great success and feedback from customers.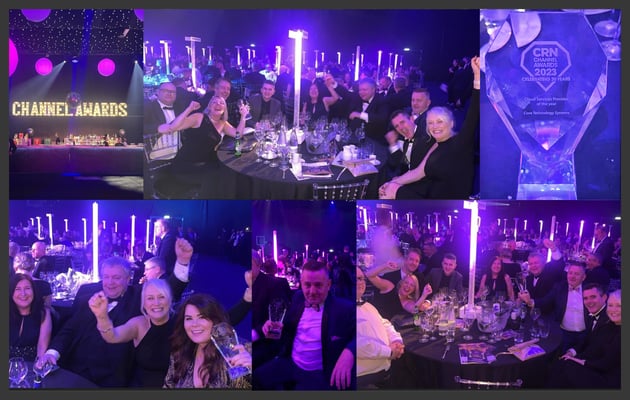 Our partnership with Microsoft, especially in being selected as one of only five partners in the UK chosen to deliver the Do More with Less (DMWL) Program and one of only four partners in the UK selected to deliver the Viva Standardised Pilot Programme, underscores our expertise and the trust placed in us by one of the industry's giants.
Our team's proficiency in cloud computing is evident through our achievement of advanced cloud specialisations. As a Microsoft Gold Partner for over 12 years and a Microsoft Advanced Partner for M365 since the program change in 2022, we have continuously enhanced our capabilities to meet the evolving needs of our customers. Our recent accomplishments, including the Adoption & Change Management, Teamwork Deployment and Modernise Endpoints Advanced Specialisations for Modern Work and the Security Solution Designation, speak volumes about our expertise and dedication; only enhanced further with the addition of the CompanyNet team into the Core Group in 2022.
Cloud Optimisation
Our commitment to cloud optimisation services, particularly Azure Managed Services, has seen significant investment and development, offering our customers flexible access to cloud skills and cost-effective solutions. Notably, our Azure Technical Spend Assessment (the Azure TACO) has been a game-changer, enabling organisations to save up to 40 per cent on their Azure billing, as experienced by one of our customers.
"Winning the CRN Cloud Services Provider of the Year award for the first time in Core's 32-year history is a monumental achievement. It reflects the hard work, dedication, and innovation that every member of our team brings to the table. This award is not just a recognition of our past successes, but a beacon guiding us towards a future where we continue to deliver market-leading cloud solutions and services to our customers."
This award is not just a recognition of our past achievements, but a testament to our vision and future potential. At Core Technology Systems, we remain dedicated to pushing the boundaries of cloud services, ensuring that our customers receive the best possible solutions and services to meet their evolving needs.
Here's to many more years of success and innovation from the #OneCore team, and a huge congratulations to all the winners last night from our team to yours!