What is Managed End User Compute?
Managed End User Compute (EUC) is where many businesses begin their digital transformation. To understand what Managed EUC is, we need to put aside thoughts of hardware, servers, and applications for a moment, and focus on the employee. The purpose of a Managed EUC is, after all, to enable, empower, and support the employee by the most efficient means possible.
Early EUC
In the early days of EUC, many of the solutions were a variation of Virtual Desktop Infrastructure (VDI). This enabled businesses to host virtual desktops in a private or public cloud, and the employees accessed their profiles via a thin client. That's still possible, but the concept has evolved. Modern EUC solutions now encompass virtual desktop experiences via thin clients or through a browser on any desktop or laptop. And it doesn't stop there. EUC now includes the ability to manage physical hardware through a cloud-based management portal – a tool that proved invaluable during the recent pandemic.
Using tools such as Microsoft Autopilot, IT departments can now ship hardware directly to an employee's home, and configure the portal to install a policy-based profile as soon as the employee logs onto the device for the first time. Any applications associated with that profile will be installed, as well as domain settings and even desktop backgrounds.
So, what does a modern EUC solution look like? Similar to the first renditions, only with greater capability. Modern businesses can utilise a mix of virtual and physical desktops, using role-based decision making, and every device can be managed from a single cloud-based portal. Updates to security, patching, and applications can be rolled out at the click of a button, lost or stolen devices can be secured to avoid data loss, and as the solutions are cloud-based, building security and resilience into an EUC solution is almost limitless.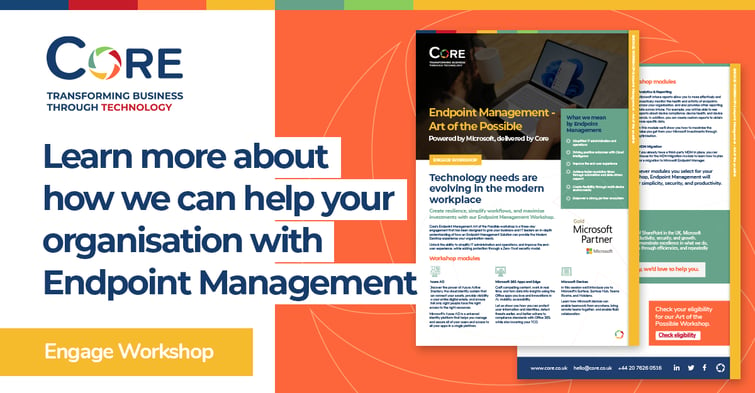 What is a Managed EUC solution?
A Managed EUC solution is when you take all the above, and partner with a specialist company to take care of your End User Compute solution. For a business to achieve the highest level of resilience, while empowering, enabling, and supporting its employees as well as it can, there will likely need to be a shift in IT resourcing. New skills might need to be brought in, trained, and then the rollout will need to be managed, stakeholder buy-in will need to be sought.
What makes a Managed EUC solution attractive to many businesses is simple; it reduces the hassle and requirements for all of the above, and makes IT management easier. At Core, for example, we take the time to understand our customers' businesses to design effective rollout plans, communications plans, and associated training. EUC has evolved a lot in the past decade, and it will only improve and grow as time goes by. Our Managed EUC customers understand this, and we advise them each time a new opportunity for increased efficiency becomes available.
Where do you start?
Often, our Managed EUC customers start by attending a workshop, designed by Microsoft, and led by Core's specialist teams. In many cases, Microsoft will fund the workshop, meaning our customers get an insight into their potential EUC solution and a deployment plan at no cost. If you'd like to know if your business is eligible for Microsoft funding, or you'd like to know more about our EUC workshops, click here