Viva Learning for the Modern Workplace
In 2021, Microsoft released their new employee experience platform, Viva. In true Microsoft style, they have given us an innovative tool that solves problems businesses are facing today, in a post-pandemic world.
A decade ago, Viva would have been a nice-to-have platform. But in 2022, when a large percentage of the UK workforce is either working from home, or on the move, Viva provides a fundamental experience employees should have had in the office. Viva was launched with four distinct pillars: Topics, Connections, Insights, and Learning. A fifth pillar, Viva Goals, has recently been announced, which we will detail in a separate blog.
In this article, we will be focusing on Viva Learning, explaining how the platform helps businesses overcome a learning and development challenges in an evolving modern workplace.
Microsoft Viva Learning
When employees all worked from an office, learning and development was often simple to structure, monitor, and played a key part of developing individual KPIs. But with so many of us working from home, or splitting our time between the office and home, those vital learning sessions are harder to structure, and even harder to monitor against performance.
There are of course, several LMS platforms available, often tailored to industry and business functions. And of course, many organisations produce bespoke training for staff. Microsoft Viva Learning brings a variety of these learning platforms together and makes them available through Microsoft Teams.
To access Viva Learning, employees simply search for Viva Learning in the Teams App and add a shortcut to the quick access panel on the left. Then they use the shortcut to access learning modules from a multitude of platforms such as LinkedIn Learning, Coursera, Microsoft Learning, Skillsoft, and more.
Viva Learning is Always Learning
Viva Learning more than just an aggregator of LMS platforms. Using machine learning, Viva Learning provides employees with an individually curated selection of modules from across a range of subscribed learning tools.
New content from all sources can easily be searched, and modules relevant to other team members can be shared through the Teams app.
Managers can even curate lists of learning material for their team, and track progress, all from within Microsoft Teams. Viva Learning will then learn which topics and types of learning the manager curates, and then uses machine learning to suggest more.
Employees and managers alike can access bookmarked content, recently viewed material, and assigned learning from the various learning platforms. To ensure employees never miss out, notifications can be set to alert teams to new learning material, ensuring employees stay up to date, and those all-important KPIs are met.
Microsoft Viva Learning Licensing
To access Viva Learning via a seeded license, users require a Microsoft 365 F1, F3, E4, A3 and E5 to A5 subscription.
Alternatively, a premium license can also be purchased through your Microsoft Partner. Talk to us to learn more about current pricing options.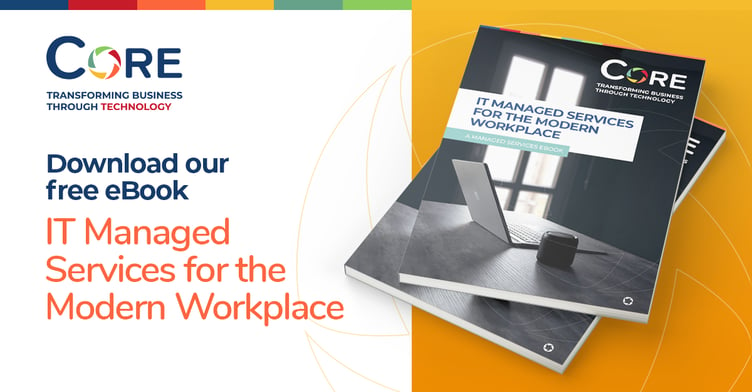 Deploy Microsoft Viva
As a Microsoft Advanced Partner, Core has developed several deployment options for its customers as well as workshops to ensure businesses gain the most value from their investments.
Our Microsoft Viva Quick Deploy solution is a great way to deploy the various Viva Pillars, ensuring that experienced Microsoft professionals are behind your rollout. We'll define a fixed outcome and do the heavy lifting so you can be sure your organisation has an optimised platform on which to build.
Alternatively, many of our customers find that our Microsoft Cloud Accelerator (MCAP) workshops are a great way to ensure Microsoft products are a good fit for their needs, and to gain stakeholder buy-in. We can even help you develop a deployment plan to take your modern workplace one step further. The workshops are fully interactive and immersive, providing you and your business leaders with the opportunity to see and feel Microsoft products, and align the tools to your specific challenges.
If you're still unsure what Viva is and if your business needs it, you can read more about each of the pillars here.
Talk to us today to tell us where you are in your modern workplace journey, and to see how Microsoft Viva can bring the office experience to your teams, wherever they are.