Why Microsoft Endpoint Manager should be on your technology roadmap
Starting from the beginning, Microsoft Endpoint Manager (MEM) is a combination of Microsoft Intune, Configuration Manager, Co-Management, Desktop Analytics, Autopilot and Azure Active Directory.
Over the course of the next week, we will be deep diving into the benefits of each element of MEM and examining the benefits of deploying each of these within your organisation. We will look into the benefits at a high level allowing you to make an informed decision as to whether you should include MEM in your technology roadmap for 2021 or beyond.
Microsoft Endpoint Manager gives the ability for end users to work remotely using mobile devices in a secure fashion. This year has definitely created the business case for remote working and of course this still needs to be done securely. MEM provides your organisation with the tools to be productive and efficient whilst also being flexible and secure.
Whilst most of 2020 has been spent frantically ensuring the end users are capable of working from home on their corporate devices using the productivity apps such as Teams, SharePoint and PowerApps, now may be a good time to look towards 2021 and see what's on the horizon. An updated technology roadmap is a must have following a year of uncertainty and the following blog series will explain why MEM should be at the top of the list.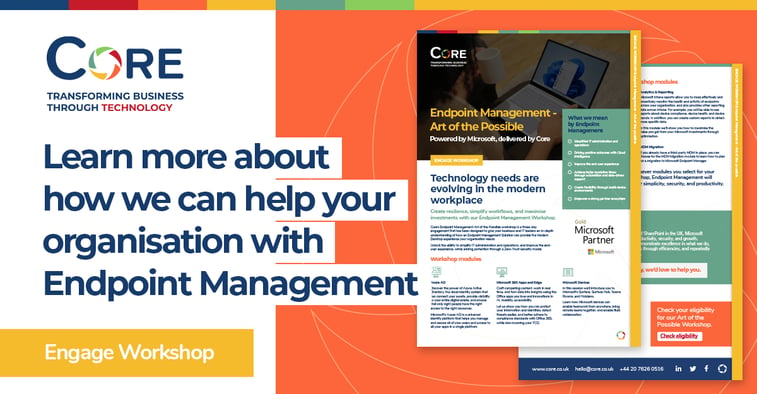 Many organisations have been putting in place solutions to enable their staff to effectively work from home. The question is: Are these solutions safe, secure, efficient and user friendly? The MEM blog series will help you construct the business case for these essential technologies or at least solidify their place on your technology roadmap.
Throughout the series we will also be offering free technology strategy workshops which will take a deep dive into your current environment providing you with a bespoke roadmap specific to your organisation. These workshops can also be tailored to suit you ensuring we provide the most relevant content we can during the workshop. If you would like to see how our free Technology Strategy Workshop could help you, these are currently being delivered remotely. Please also visit our website for more blogs, podcasts, reports and virtual events as we kickstart 2021 with a bang!
We also hosted a webinar on the capabilities of Endpoint Manager and how it can be used to issue, secure and manage devices for users, particularly to government organisations, and make remote working more secure and easier.
To view the recording, just click here.