Azure vs AWS: Why people are choosing the Microsoft cloud
By Lucy Wright - September 18, 2020
It's not too long ago that the conversation around cloud services was, "they're coming, so get ready."
Today, cloud is normal. We use it in our personal lives and in business. In fact, it's predicted that spending on cloud services will more than double from $229 billion in 2019 to around $500 billion by 2023. And research by the IDC shows that the majority of CIOs have already adopted a cloud-first strategy in their business.[1]
For more incredible cloud stats, see our infographic.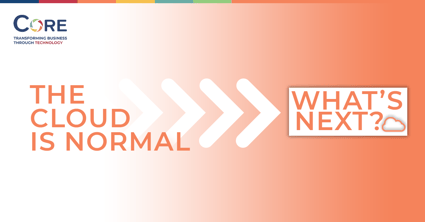 So, with cloud services now being widely consumed, the question is, which cloud is best?
Well, there are three major players in the cloud services world: AWS (Amazon Web Services), Google Cloud Platform (Google's offering) and Microsoft Azure. Although AWS is the public cloud market share leader, Azure is making gains and is the perfect choice for larger organisations already using Microsoft products.
Let's take a look at some of the reasons enterprises are choosing the Microsoft cloud...
Value and cost-effectiveness
Azure is a natural choice for thousands of organisations that are already Microsoft houses. Most enterprise-level companies already use and are familiar with the Microsoft suite, and generally have an Enterprise Agreement in place. When this is the case, Azure offers cost-savings compared to other clouds through discounts on licensing for Azure. You can also use your existing Windows Server and SQL Server licences with Software Assurance to pay a reduced rate when moving to Azure.
Get more information on licensing through Core here.
Azure also allows companies to get more value from their existing Microsoft investment through full integration with Office 365 and Active Directory. For companies moving their Windows Server to the cloud, Microsoft has offers such as extended security updates included in the cost. So, for any company using Windows Servers and the Microsoft stack on-premises, it is a no-brainer to move to Azure. The integrated environment also makes it incredibly user friendly once you've made the move. While Azure has more functionality in general than AWS, it is simpler to use. AWS can be complex and is known for lots of documentation, whereas Azure uses technologies that you and your users are already accustomed to using, like Windows, Active Directory and Linux, so the transition to the cloud is less obvious.
Compatibility
Another advantage of Azure is its compatibility with .Net-based applications. Older applications especially have been developed using .Net - Azure's compatibility with the framework means these app cans be migrated from on-site to Azure with no problem.
Security
From a security perspective, Microsoft is known for industry-leading security. Just this year, they were recognised as a Leader in security in the Forrester Wave Report. Microsoft's security is so robust it's trusted by government bodies as well as enterprises; 95% of fortune 500 companies use Azure. 8 trillion threat signals are analysed by Microsoft every day, with more than $1 billion dollars spent each year on security research and development. Azure also provides more than 90 compliance offerings and is the most trusted cloud by US government agencies.
Ongoing updates and added functionality
The future of the workplace is uncertain. This year more than ever, organisations have relied on cloud technologies to allow them to work remotely and securely. Microsoft is constantly working on updates and adding functionality to Azure which allows organisations to be future-ready. In the past year alone, more than 1000 new capabilities were added, and Azure also has a comprehensive AI portfolio which keeps it at the cutting-edge of cloud technology.
Flexibility
For organisations taking a hybrid approach to cloud, Azure is ideal.
Azure offers services designed for hybrid cloud which means it's a great choice if your organisation is using a combination of on-premises and cloud services, or a combination of public and private cloud. For security, Azure has a unified identity platform and cohesive approach to cover all types of cloud.
Next steps
If you're beginning your journey to the cloud Core can help. Our Cloud Readiness Solution is designed to establish your cloud maturity and create a roadmap to help you move to the cloud.
Book your assessment today or contact us here for more information.