A day in the life of a Sales Account Manager in a remote world
Mark Pembroke is a Sales Account Manager for Core. In this blog, Mark shares his perspective on the benefits and fundamental changes to the way he works thanks to Office 365 technology, and in particular life before and after Microsoft Teams for collaboration and easy access to communication and work together from anywhere.
Life before Office 365
Life before Office 365…It seems like a lifetime ago doesn't it? I am sure there are many of you reading this who will remember what it was like to get stuff done before we could collaborate, communicate and access applications and information from anywhere. I guess I have been quite fortunate in my career to have worked for Core, a company who has always been right on the front line in terms of using leading edge Microsoft technology. This doesn't mean that I don't remember some of the headaches though!
When thinking about life before Office 365, one specific thing that stands out in my mind is just how difficult it was to collaborate. The scenario which still haunts me is a request for proposal response.
As the sales account manager, it's my job to co-ordinate internally and collate everyone's information together in to one master document. Now let me tell you…this is no easy task! With often three to four different contributors, this led to different documents to collate each named inexplicably 'V1.2', 'V4.3', V3.7' etc.
Then of course you would get a couple of late revisions with no explanation of what has been changed in which section…and of course, a 'V4.9'.
The word I would use to describe this chapter of working life is laborious. Everyone seemed to have a set way of working, office based, 9 to 5, rinse and repeat.
The new world
When Office 365 and related technologies came in, they really shook up the whole working experience! Using the above scenario as an example, we were now all able to work in the same document at the same time and even use instant messaging to communicate with each other directly through Skype for Business in the document itself.
The technology was there and the level of integration across the Microsoft product stack was impressive. The issue I found (without meaning to moan at anyone) is that the technology was ahead of people.
Just because the tech was there, didn't mean people were quite ready to move wholeheartedly into this new world. The old phrase "nobody likes change" was ringing loud for everyone to hear.
The scenario I laid out had improved, but people didn't fully understand the technology, with the 'old schoolers' still choosing to work on their own document offline and send to me to merge together. Cries of "it doesn't work for me" and "there's too many people in the doc, it's too slow" were a couple of personal excuse highlights of mine.
The truth was the technology did work. Brilliantly. A few teething issues to be expected but on the whole, people could now easily access everything they needed from home or on the move. Now this presented a host of new challenges in the form of security and data loss concerns, which led a lot of organisations to rattle off the phrase "doing what we do, we can't move to the cloud". I even heard one chap back then tell me "I like to be able to stroke my servers" …each to their own, I guess!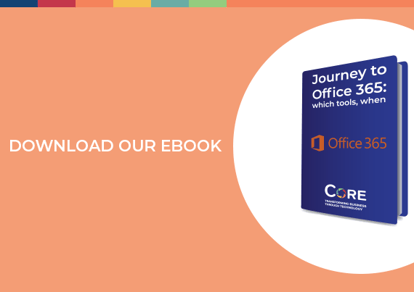 The cloud revolution
Over the last five years or so, more businesses have started to embrace the new cloud-first, mobile working world. The initial concerns around the cloud have largely lifted with people realising that their data is safer being looked after by Microsoft.
Different generations are now working together and all embracing the new technology available to them. Office 365 as a platform has grown, evolved and expanded into a complete productivity suite. In fact, it is such a complete tool set that the challenge has now become "which application shall we use and when?". Enter Microsoft Teams!
Teams as a single pane of glass for productivity
When Teams first came on the scene, I wondered what the point of it was. It felt like it was duplicating a lot of areas of Office 365 and muddying the waters. But revelation came and it didn't take me long to realise I had made a mistake with that initial thinking.
I soon discovered just how powerful Teams was and how much easier it made my life. Being in sales, my job is often high pressure and time sensitive. I need to be able to communicate quickly and effectively, and easily find information that I need for my customers, partners and internal teams.
Finding documents in SharePoint or emails that I need using customer specific folders in Outlook was fine, but a much more efficient way of working was right in front of me.
Teams was the single pane of glass, the adhesive which neatly bonded together all the different aspects and components of the Microsoft 365 family.
Instead of emailing customers documentation and proposals, I now have dedicated channels with them in Teams, where we have an audited, secure place to share information and discuss exciting initiatives. From a pre-sale's perspective, I can now bring in resources directly to these channels and I can schedule calls directly from the Teams application, syncing neatly through to outlook calendars.
Another challenge that existed prior to Teams was when a customer was mid project, I would often have to jump from different systems and talk to various people internally just to find out where we were with time used and invoicing. Now, all project communication and documentation at Core is run through Teams with our customers, and visibility and transparency of information has never been better.
And finally, as you might expect, 'Teams' does exactly what it says on the tin. Our sales team has never worked closer. We are all sharing hints and tips, documentation, proposals we have written and much more in one secure and searchable place. I feel closer to my sales team and closer to my customers as a result of this new exciting platform.
In the unprecedented global crisis we currently find ourselves in, with social distancing measures in place and those people that can work from home doing so, face to face contact with my colleagues, customers and partners is a luxury that I can still have thanks to Teams.
To find out how modern workplace tools like Office 365 can help you rip up the rule book when it comes to the way you work, download our white paper now.