Microsoft Cloud for Non-Profit Part Three - Licensing and Getting Started
In our previous two blogs, we've explained what Microsoft's Cloud for Non-Profits is, and how specific features, such as Fundraising and Engagements, can provide an industry-specific platform on which non-profits can improve efficiencies, manage costs, and facilitate modern practices without requiring bespoke development. But what does that mean for non-profit organisations in practice?
Cloud for Non-Profits case study
The Canadian non-profit 'Right to Play' attribute a 3000% increase in their donor performance to the use of Fundraising and Engagement.
"Because of Fundraising and Engagement built on Microsoft Dynamics 365, we are going to be able to expand the impact of our programs in the 15 countries where we work. Over the next 5-10 years we will be able to expand to many more countries and impact the lives of many more of the world's most vulnerable children." Dr. Kevin Frey, Global CEO, Right To Play
"[The] Fundraising and Engagement solution has allowed us to massively scale our monthly donor program. It is up over 3,000 percent and that is only because of this solution. It has allowed us to manage a broad and international portfolio of donors and stewards and engage them in ways we were never able to before." Dr. Kevin Frey, Global CEO, Right To Play
Source: https://www.microsoft.com/en-us/videoplayer/embed/RE4GxWi
Licensing Model
In addition to services, Microsoft Cloud for Non-Profit has its own Licensing Model. To buy via this model, you should follow these steps:
Confirm Non-Profit Eligibility
Learn about Microsoft's Eligibility requirements and the steps required to become eligible on the Getting Started site.
Review Microsoft Cloud for Non-Profit Industry Solution Capabilities
Choose one or multiple solutions. Microsoft Cloud for Non-Profit allows you to grow and adopt at your own pace.
Determine Microsoft Cloud for Non-Profit License Pre-Requisites
Each capability enabled by the Microsoft Cloud for Non-Profit Add-On has specific prerequisites as outlined in the table below.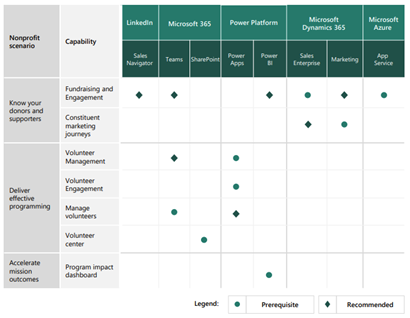 As you can see, to use Fundraising Engagement you require a Sales Enterprise license and use of Azure App Service as a requisite. This is needed before you add on the Basic or Standard Plans detailed in the table below.
Access Grants and Purchase Pre-Requisite Licenses
To see the price of each license prerequisite, visit the non-profit hub, or talk to Core. Microsoft also make grants available that map to the Microsoft Cloud for Non-Profit solutions, and you can speak to Core about these.
Purchase Microsoft Cloud for Nonprofit Add on License
A quantity of '1' license gives access to Microsoft Cloud for Non-Profit for all employees in your company who have a license prerequisite. Either a Basic or Standard license must be present on the contract to implement the solution.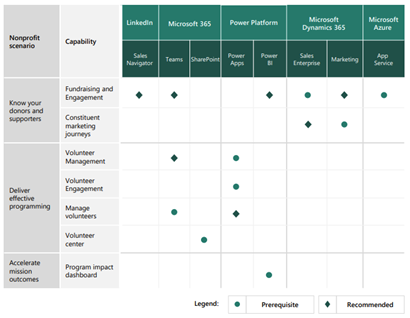 As a Microsoft Cloud Solution Provider (CSP), Core is proud to support and service non-profit organisations, helping them develop modern workplace solutions, improve efficiency, and manage costs.
If your non-profit organisation needs help with any aspect of Microsoft's cloud offering, get in touch with us today to arrange a call with one of our non-profit specialists. We'll help you analyse your existing environment, understand your organisation's needs, and develop a technology roadmap to ensure your non-profit organisation not only benefits from cloud technology, but thrives as a result of being a Microsoft customer.