Microsoft Cloud for Non-Profit Part One – Industry Cloud Explained
In October 2020, Microsoft announced Microsoft Cloud for Healthcare, the first industry aligned Cloud offering. By February 2021, Microsoft announced industry cloud solutions for manufacturing, financial services, and the one discussed in this blog, non-profit. But what makes this cloud technology different to what you have seen before?
The first thing to make clear is that this does not involve moving to a different Cloud service, nor does it mean that the fundamentals of existing Microsoft Cloud environments within the non-profit sector are now redundant. Instead, it is better to think of Microsoft Cloud for industry technology as logical extensions of existing Microsoft Cloud services, delivering industry specific capabilities across Microsoft services that non-profit organisations already have access to.
The industry cloud offerings leverage the breadth of Microsoft solutions into solutions that deliver new capabilities, customisations, and standards tailored specifically for each industry.
Microsoft Cloud for Non-Profit is designed to break down silos between applications and data stores, providing an integrated experience. Being modular, the platform allows NFP organisations to adopt applications at their own pace, and grow into the full capabilities, according to a digital strategy. It is designed to extend non-profit workers' capabilities, helping staff and volunteers be more efficient, with the right data at their fingertips.
This is all happening as demand for social services is extremely high and the socioeconomic impacts of COVID-19 continue to be felt in the months and years ahead. And of course, the non-profit sector has been massively impacted by this.
Microsoft Cloud for Non-Profit anchors specifically to the Common Data Model (CDM), which can be found in any M365 Power Platform environment. Organisations that use Dynamics 365 are already using the CDM. More specifically, they are using Dataverse, which is Microsoft's name for the database that is used by Dynamics 365 which utilises the principles of the CDM.
The CDM is a shared data language, or schema, that allows businesses to store data in a consistent state while still sharing, accessing, and editing it across various applications, services, and processes. Leveraging the same database across processes, applications, and services reduces the complexities and costs involved when integrating with disparate data sources.
Although the Dataverse comes with 'Core' or 'Standard' tables, along with other standard tables which are unlocked when using applications like Sales, Customer Service, or Marketing, custom tables can be added, and the CDM can be extended to suit individual business needs.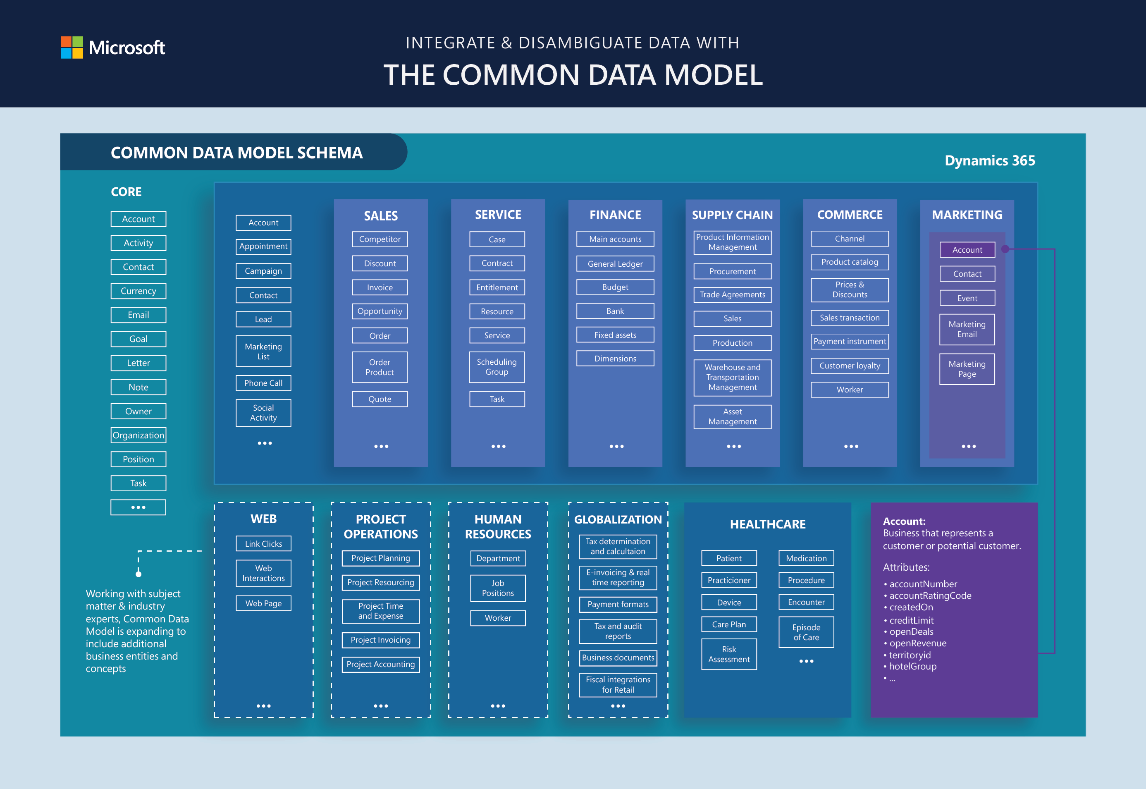 However, customising this can be time consuming and the more custom tables that are created, the more likely it is that data schemas will become complex and unwieldy. An accelerator takes the worry and risk away because Cloud for Non-Profit is not just a collection of front-end applications.
Customers also receive the additional tables required to make these applications work. Reassuringly, they have been developed for use within the Non-Profit industry. A Non-Profit CDM.
This means, instead of non-profit organisations reinventing the wheel to develop their own data schemas, or making do with what they can afford, they can use preconfigured tables to accelerate progress. Since we are building on a platform which rests on industry leading security and compliance, non-profit organisations can also rest assured that they are deploying solutions built on the same foundational strengths as Microsoft Cloud and can draw on the same underlying controls and protections.
To learn more about how Microsoft's Cloud for Non-Profit builds on the non-profit CDM, read the next article in this three-part series on Cloud for non-profit.
As a Microsoft Cloud Service Provider (CSP) with numerous non-profit customers, Core's experience both within the non-profit industry and delivering Microsoft Cloud technologies is extensive.
If your non-profit organisation is looking to benefit from Microsoft's Cloud for Non-Profit, get in touch today and talk to one of our specialists.
Read part two of our Microsoft Cloud for Non-Profits here.