Meet Core's new Client Solutions Director, Eamon McGann
With 2020 under way, Core is entering the new year with renewed focus on helping our customers truly unlock the value of their investments in Microsoft 365.
As part of our commitment to doing this, we have created a new Client Solutions Director role dedicated to ensuring success for our customers, which has been taken on by Core's former Chief Operating Officer, Eamon McGann.
Having previously held the position of COO at Core, Eamon has an innate understanding of how Core operate and of the solutions we provide to customers, and is able to offer insight from both a technical level and strategic board level - which is invaluable to our customers. By visiting our customers at their location and carrying out strategic envisaging workshops, Eamon helps our customers to define their IT strategy for the year while taking into consideration ROI, security challenges and their business objectives.
Eamon is guided in his role by Core's delivery approach of Envision, Onboard, Drive Value, which encompasses every stage of the customer journey, from initial planning to implementation and continuing support.
"I'm delighted to have taken on the role of Client Solutions Director at Core. With a great team in place to deliver projects and our Envision, Onboard, Drive Value approach, we're able to make sure our customers see real return on their investment in Microsoft solutions, whichever industry they're in and whatever their business goals."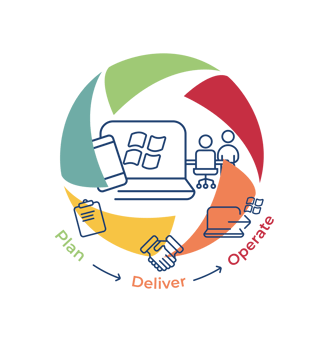 Core believe that technology can change the people work for the better, but we also know that people and processes need to be aligned for customers to see most value from their investment, which is what our complete service wrap helps you to achieve.
Our Envision, Onboard, Drive Value approach is integral to that, and aims to maximise user adoption and utilisation of new technologies within your organisation, enabling you to achieve your future business objectives.