The 7 Key Benefits of Using Office 365 for Business
Efficiency is so important for business. Being able to create, collaborate and communicate seamlessly makes any organisation more effective. Having access to productivity tools including PowerPoint Templates that enable people to do their jobs more easily - and from anywhere - makes organisations agile and lets them compete in their sector..
Office 365 is Microsoft's productivity suite with tools like Word, Exchange, Excel, SharePoint, Teams and more. Because Office 365 is cloud-based, the full-featured experience can be accessed from anywhere, on any device, as long as they're online.
The tools in Office 365 complement each other and work together seamlessly, so it's a must-have for any business.
Here are seven key benefits of Office 365.
Access Files Anywhere
Office 365 allows your organisation to store all the files in the cloud. This means they can be accessed on any device, from any location with an internet connection. For organisations where mobile working is essential, being able to access all the apps and files you need when out of the office is invaluable.
Secure Cloud Storage
Office 365 is a totally secure environment with robust security measures in place, like two-factor authentication, which ensures unauthorised people can't access your files if they happen to get on your device. Threat detection and anti-malware means security threats are identified and stopped immediately, which is particularly important for organisations that deal with confidential data or information. Using Office 365 means your business is free to operate without any concerns for security.
Improved Communication
Office 365 gives users tools to keep communication centralised and straightforward across Skype and Outlook. Skype for Business lets you hold conference calls and meetings with staff and external agencies anywhere in the world, so you can always collaborate and communicate regardless of distance or time difference. Teams provides an instant messaging function where comments can be added and files uploaded at the same time, which is useful for cross-department collaboration and when co-authoring documents. You can also 'at' people on Teams so they receive a notification that a comment is aimed directly at them. All these features mean you can be in constant and immediate contact with teams and individuals wherever they are located and at any time. Yammer is another feature of Office 365 which acts as a kind of social network for your organisation. By posting on your company 'news feed' you can instantly message the entire workforce, and staff receive an email notification when there is a new post so messages aren't missed. Anyone can comment on a post, and you can create different 'channels' in Yammer for different purposes, so you don't always have to post to the entire company.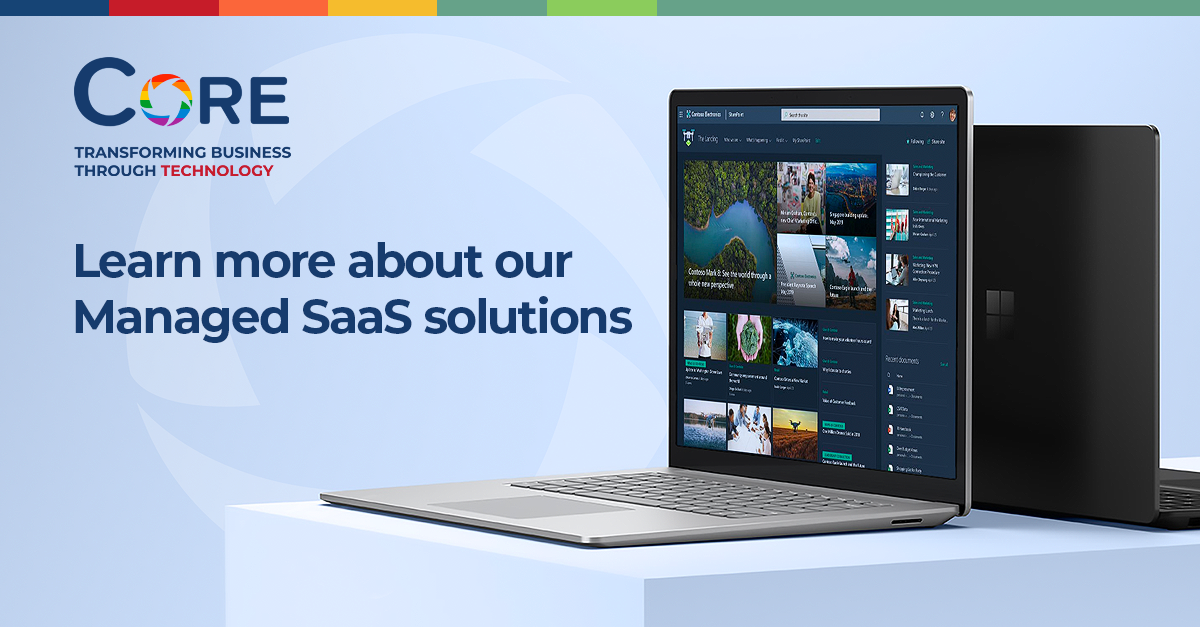 Predictable spend
Office 365 is paid for on a per user, per month basis, like a subscription. The cost of your licences depends on the level of functionality you choose for your business. Different enterprise levels include different applications and products, which dictates the cost of each licence. Paying per user, per month gives you a predictable outgoing and helps you budget your IT spend for the year ahead. Upgrades are included in the cost of your licences, so there are no unexpected or additional costs. If you buy your licences through Core, you can also change the number of licence you have at any time, if you hire or people leave, for example. That way, you are never over-licensed and there is no waste.
Business Continuity
With files stored in the cloud and regularly backed up, your organisation continue to operate as normal in the case of a disaster at the office. No matter what happens to your physical devices, your email, files and data are safely stored in the cloud. Exchange also has recovery features which mean individual emails or even entire inboxes can be restored if needed. No matter the situation, it can be business as usual if you're using Office 365.
Automatic upgrades
All the essential apps such as Word, Excel and Outlook are included and work online without the need to install any software. Upgrades are performed automatically at predetermined intervals, so you don't have to worry about being on the latest version; that will happen automatically. The expense of buying new software is also eradicated as updates are included in the subscription for your Office 365 licences.
Centralised Collaboration
Office 365 lets you share mailboxes, calendars, contacts and edit documents in real time through collaborative tools. Sharing calendars in Exchange means you can see who in your organisation is available when, so you can schedule meetings that work for everyone, first time round. Shared mailboxes mean multiple people can access the same mailbox, so messages can be filtered to land in the shared mailbox and won't be missed. SharePoint is another integral tool for enabling collaboration. Documents that are saved here can be accessed and worked on by any staff member, and shared as a link in email. Multiple users are also able to edit documents stored in SharePoint in real time, which makes co-authoring easy. You can see who is in the document at any time and even where they're working thanks to little coloured flags which identify each user.
Office 365 offers online versions of the most popular tools such as Microsoft Word, PowerPoint, Excel, and OneNote. For any business, the range of features provided by Office 365 are unmatched. The monthly subscription model offered for Office 365 makes it easier for companies to buy a plan that is suitable for their size and number of users, and continue to operate as usual.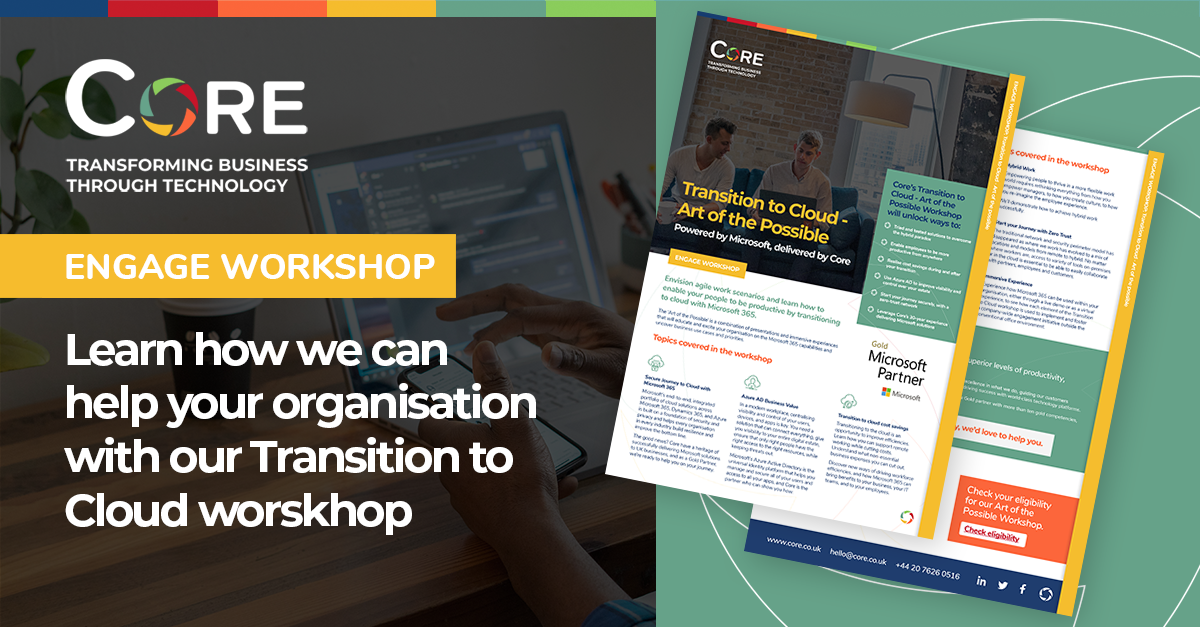 Find out more
Try our interactive tool: Is Office 365 right for me to download a personal report on how you can benefit from the Office 365 suite of tools and solutions.