The cloud is normal - what's next?
By Lucy Wright - September 11, 2020
Ask almost business and you'll find they're using the cloud.
The IDC estimate that by 2023, spending public cloud service will more than double from its 2019 figure of $229 billion, to $500 billion a year.[i].
This includes spend on SaaS, PaaS, IaaS and professional managed services around the cloud, plus hardware and software needed to deploy and implement cloud technologies. Still, it's a huge figure that hints at the dominance of cloud tech in business. Cloud is so prevalent today, it's normal. In fact, in recent research by the IDC, the majority of CIOs asked said they has already adopted a cloud-first strategy.[i]
See more cloud use statistics in our infographic.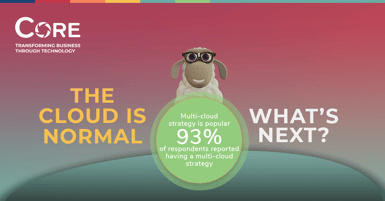 The cloud offers benefits that are both tangible and intangible, so it's easy to see why it has exploded in popularity.
Cost savings compared to on-premise solutions, reduced capex and a predictable cost that flexes with the needs of the business are just some of the attractions of the cloud. And from a customer service perspective, cloud technologies allow companies to improve customer service as a result of better communication and collaboration between internal teams, and greater agility.
There also seems to be a link between cloud adoption and stress levels amongst IT workers. Core's research carried out at the start of this year found that using cloud services seemed to benefit individuals working in IT. In the independent survey carried out on behalf of Core, 57% of high users of cloud technology reported being satisfied with their work/life balance compared to 45% of people with low cloud use.
Download our Sleep Patterns of IT Professionals report here.
So now that cloud is normal, what's next?
Well, investment in cloud services looks set to continue to grow; and the Covid-19 pandemic also has a part to play in that. The Flexera 2020 State of the Cloud report found that organisations expected their cloud spend to increase by 47% next year[i], and most organisations believe Covid-19 will increase their cloud usage.[i]
The message is clear: cloud is the present and the future, and organisations not using cloud technologies risk being left behind.
Next steps
If you would like to begin your journey to the cloud, Core has a range of services designed to help you migrate smoothly and efficiently, and quickly start enjoying all the benefits cloud brings.
Our Cloud Readiness Solution is a great starting point, helping you to build a roadmap to a Microsoft-enabled cloud-first environment.
We will establish your current cloud maturity baseline and create a detailed report which forms the basis of your cloud migration and application transformation. We will also identify the workloads and areas that will help you improve service and reduce costs by moving to the cloud.
Book your assessment today or contact us for a chat for more information.
[i] https://virtualizationandstorage.files.wordpress.com/2016/03/the-booming-cloud-opportunity.pdf
[i] https://virtualizationandstorage.files.wordpress.com/2016/03/the-booming-cloud-opportunity.pdf
[i] https://www.flexera.com/blog/industry-trends/trend-of-cloud-computing-2020/
[i] https://www.information-age.com/public-cloud-revenue-to-grow-6-3-in-2020-gartner-123490499/