Creating accessible content using Office 365
Working and learning from home can be incredibly difficult and comes with many new pressures and challenges. But this period of lockdown has required more from us than to work from home.
It has forced us to overcome what had once been unforeseeable restrictions to daily lives, confront new situations and use workplace systems and applications in new ways. Not only that, we have had to find new ways to stay in touch with family and friends, familiarising ourselves with new applications to facilitate this.
But for many people, circumstances like this are longstanding. Millions of people are required to retrofit their workspace and content so it can include them.
If there are things we can and should take from this period of lockdown, one should be empathy for people who struggle for their needs to be included. Through this new appreciation, we can and should explore what means are currently available to create content that will see inclusion persist and flourish in the new world.
Office 365 is a great place to start. So here are 10 ways to create accessible content using Office 365.
1. Immersive Reader
Immersive Reader is available in applications across Office 365, including Teams, OneNote, Word, Edge and more. It is also available in dozens of third-party applications, with more adding immersive reader to their product.
Immersive Reader supports users with their reading using a variety of proven techniques.
This includes the text being read aloud to the user, which can be done per word or document and in over 60 languages. You can also customise spacing between lines and letters, highlight certain word types such as nouns or adjectives and change text or background colour.
Users can also use the picture dictionary, where hovering over certain words will show an image related to the word and enable word association.
By putting these tools in the hands of the users, Immersive Reader empowers and encourages users of all ages and abilities to read, learn and work independently.
2. Accessibility Checker
Included in Office 365 are a range of Accessibility tools which demonstrate the inclusive culture that Microsoft are developing. By promoting the creation of content that can be used by the broadest range of people, they not only become more widely used but also better products.
Accessibility Checker is a feature in Office 365 applications which checks the suitability of content against set best practices for accessibility and inclusiveness, then make recommendations for changes which can be made to make the document accessible for all.
You can enable accessibility checker running while you work, so you can keep track of any accessibility challenges in real time.
3. Office Lens
Office Lens is a free app available on iOS and Android, which turns a smartphone into a scanner. By selecting different channels in the app, you can take a photo of a whiteboard, paper document or business card. This is then automatically trimmed and can be tailored to the user's needs.
The file can then be saved to your OneDrive as a Photo, PDF, Word or PowerPoint document, in OneNote, or as a photo in your local device storage.
You can now also use Immersive Reader completely within the Office Lens application, to automatically and immediately speak aloud the text contained in the image you have captured. You can also use immersive reader features to customise spacing between lines and letters, highlight certain word types such as nouns or adjectives, change text or background colour and translate into over 60 languages.
From an accessibility perspective, Office Lens can be used to support an individual who may have a form of visual impairment, difficulty taking notes or difficulty reading in certain written formats. This could be particularly powerful if a letter was sent to someone who had difficulty reading black letters on white background, certain fonts or paragraph structures.
Use Office Lens to document and better understand the world around you.
4. Microsoft Stream
Stream is Microsoft's secure video recording, storage and sharing application within Office 365, where users can create, store, organise, edit and share videos from across their organisation on web, desktop and mobile applications.
Stream comes with speech to text functionality which automatically generates close captioning files. Users can then consume this content when they have a device, or at a convenient time if they are juggling other commitments. This helps to make content more accessible and inclusive.
You can also access the close captioning files. This enables deep search to find a key word or phrase in the video. Face recognition technology also shows you where each person appears in a video, so you can skip to the exact part that person is on screen.
You can also edit the closed caption transcript to improve the accuracy of the dictation. This file can also be downloaded and added to a PowerPoint presentation.
Stream can be easily integrated with collaboration apps you use every day, including Teams, SharePoint, Yammer and more.
5. Dictate in Office 365 and Windows 10
You can dictate in Microsoft Word using speech to text with a Microphone enabled device and a reliable internet connection. The feature is available in the web browser, desktop application, iOS and Android. It is a quick, easy and inclusive way to record thoughts, drafts, outlines, or notes.
There are currently nine languages supported in dictation and Microsoft are adding new languages all the time, with 10 more already in preview. If you are using Windows 10, you can prompt dictate using Windows Key + H, to allow you to dictate anything in Windows 10.
6. Math Assistant
Math Assistant is a feature within OneNote, which enables a user to solve an equation quickly, displaying step by step instructions to support understanding of how to reach the solution independently.
You can convert an equation you have written out into a properly formatted equation, with the option to fix any errors in the conversion. You can then view graphs for this equation, as well as solving the equation and viewing the steps to the solution, which are automatically set out.
The Immersive Reader can then be used to read aloud the solution steps.
Furthermore, you can also extend the Math Assistant using Microsoft Forms technology, you can analyse an equation to then auto-generate a quiz with similar equations for you to solve. You can then test your knowledge with these new equations.
7. Microsoft Editor
Microsoft Editor supports users with their written content across Word, Outlook and Edge. If you download the Editor extension in your Edge browser, you can receive assistance across the web.
Extending the usual grammar and spelling refinements, Editor uses natural language processing to support document review and editing across several new categories, including formality, clarity and inclusiveness.
There is also a readability score, as well as an estimate of the time it would take to read or speak aloud the document. Currently there is basic guidance across 20 languages and spelling suggestions in more than 80 languages.
Furthermore, in order to proactively understand how much of your document consists of existing content, you can use Similarity Checker in Editor. This is useful for processes like academic research and citations, where support is available early and during the process. This means students can feel empowered to improve their writing outcomes.
Similarity Checker is currently in Preview and is expected to be released to General Availability in July 2020.
8. Teams Meeting Custom Background and Background Blur
If you are in a Teams meeting and would like to change what is appearing in your background, you can select the option to either blur or customise your background.
There are pre-set backgrounds available, but you can also upload custom backgrounds of your own choice. These can be fun or educational to lighten the mood, or they can be blank backgrounds with a company logo.
The custom background and blur feature is also useful for privacy. After all, there may be times where you are required to be on camera but don't wish the setting you are in to be shared with others.
Background blur is also useful in supporting attendees in focusing on the speaker at any given time, removing any distractions that may be happening in the background.
9. PowerPoint Presenter Coach
You can use Microsoft PowerPoint Presenter Coach in the web application and Android app, to rehearse your presentations in private while receiving constructive feedback to help build confidence and refine your presentations. This is particularly useful for people who are new to presenting, nervous when speaking in front of others or who may live with a form of anxiety.

Once you have completed your presentation, you will receive an automated report created using AI and Machine Learning, providing a range of feedback on pace, duration, pitch, filler words, sensitive words/phrases, originality and more.
10. Translation
Translation can be performed in several ways across Office 365 and beyond.
In Teams, you can translate posts, chats and content across your Teams and Channels. You can also translate documents and content in OneNote, using Immersive Reader.
In Word, Excel and PowerPoint, you can translate words or documents and retain the formatting already in place. You can then extend this using the Immersive Reader, using read aloud features to hear the translation.
You can also enable live subtitles in a PowerPoint presentation as you speak. Simply download the translate add-in for PowerPoint, which allows you to live translate into over 60 languages.
Attendees can follow in their own language, by downloading the Microsoft Translator app and scanning the QR code or unique ID which is auto-generated at the start of the presentation. Attendees can also ask questions through their own device in their own language, which will be translated into the language you are presenting in.
You can also use the Translator add-in for Outlook to translate email on-demand. The translation is immediate and is displayed next to your reading pane in the mailbox.
Next steps
Learn more about how Microsoft Teams enables secure, productive and engaging remote learning in our eBook.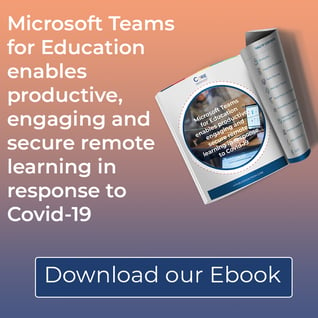 If you have any questions about the accessibility tools in Office 365, or Office 365 in general, we're here to help. Contact us here.