Why UK Businesses Should Adopt Teams Apps
Microsoft Teams undoubtedly helped UK businesses through the pandemic. Some were already using Microsoft's fastest growing platform for chat and video calls, however the additional features that elevate Teams from a communications platform to a powerful collaboration tool at the centre of the user's world, remained for the most part at least, on the roadmap.
With impeccable foresight, Microsoft clearly had a vision for Teams. Now, with more and more people seeking remote working positions, and businesses evolving as modern workplaces, the enhanced Teams features are making thousands of employees more productive and efficient.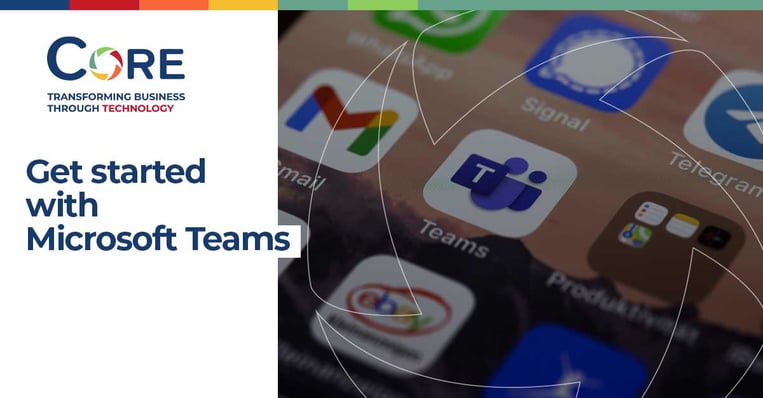 One feature that stands out above the rest, is Teams Apps. To be clear, we are not referencing the Teams app or Teams client. We'll be explaining the integrated apps available within Teams, accessible through the Teams client.
Teams Apps explained
We spoke to Core's very own Microsoft MVP, Kat Greenan, and asked her to explain Teams Apps and why businesses should be paying attention to them. Here's what she said:
"On a customer's journey to Microsoft Teams, they will often start with Teams chats and calls. If they are a customer of ours, we'll often then guide them through the process of adopting collaboration features, such as files, tasks, and Teams Calendar. It's important not to overload users with new features. We help our customers walk through the process, building strength and confidence in the tools before we take the next step. It's not about the business being slow to adopt. It's more about giving end users time to understand and enjoy the true value in the features that work for them." Click here to view some of Kat's favourite apps to use from Teams.
Teams has become more than just an application, it is now a platform. A central place from which users can increase their productivity, more easily than before.
The next logical step for a customer is to investigate Teams Apps, and that's where the journey becomes very interesting, and very effective.
Teams Apps breaks down into three main areas:
Microsoft Teams Apps
The most common apps are those that Microsoft provide, such as OneNote, Word, PowerPoint, Excel and the rest of the Microsoft 365 suite. The apps can be integrated into Teams calls and accessed through Teams groups. For example, a business may have adopted Teams, and within the platform, a sales group may have been created for members of the sales team to communicate, share files, and resources. Within that group they may utilise a file repository to hold sales documents linked to SharePoint. These documents can be opened from within Teams, using Microsoft Teams Apps.
Third Party Apps
Much like the apps available on the Apple App Store, Microsoft provide the ability for third-party apps to be integrated into the Teams platform. These apps may provide functionality beyond the scope of Microsoft 365 or may be bespoke to an industry. Apps like Asana, the project management tool, may be added to the toolbar within Teams, and accessed while on Teams calls to enhance the capabilities of Teams. More importantly, this reduces the need for users to leave the Teams window to work. This was Microsoft's foresight, providing a single platform from which to work, simplifying lives, increasing productivity, and enabling the modern workplace.
Custom Apps
The last category of Teams Apps is custom apps, and this is where the power of the Microsoft 365 suite truly shines within the Teams client.
A custom app can be developed by anybody, although we do recommend doing some training first. Usually, our customers ask us to work with them to develop an app to meet a specific need or to improve a particular process. Teams provides templates from which customers can start from, meaning they don't have to start from scratch, although if a customer sees the need, an app can be built from the ground up. This 'low to no code' approach increases the accessibility of custom Teams Apps, levelling the playing field for businesses across the UK.
Apps can be developed in Microsoft's Power Platform, referencing data held in SharePoint, Azure, or even on-premise storage, in a multitude of Microsoft 365 formats. This is all made accessible through Teams, that single location from which Microsoft envisaged users spending a large amount of their time.
Governance and control
For the security minded, which we should all be, it's worth finishing with an insight into the level of governance and control businesses have over the usage of apps within their environment.
Typically, we would begin the customer's journey with security and governance in mind.
Following that, we ask a series of questions designed to determine the type of app the business needs, and if they are first party (Microsoft), third-party, or custom. This is usually based around understanding what the business would like to achieve.
The result may be a series of apps either readily available or developed as a custom app.
Then, we delve deeper into the user base to understand which users should have the ability to turn on apps, upload apps, and share apps with the business or with third parties. This approach allows us to then guide customers through the process of investigating the available apps to understand the capabilities of each app, and how the data is used.
It's worth mentioning that Teams Apps do not share data with third parties. Data is sandboxed, but we still recommend that the relevant due diligence is undertaken before any apps are installed or made available.
The next step
Microsoft have provided the tools for businesses to succeed, but it is down to Microsoft partners, such as Core, to ensure that customers get the most from these tools. That's why we invest heavily in our expertise, it is why our customers return to us time and again, and it is why we have been successfully delivering Microsoft solutions for three decades.
No matter where you are on your journey with Teams, we'd love to hear from you. We offer Microsoft Cloud Accelerator Program (MCAP) workshops for our customers to fully experience the power of Teams and Teams Apps within the business environment. We also offer full Technology Roadmap Assessments, to ensure businesses are utilising the best technology for their needs, reducing their costs where possible, and have a roadmap to help guide them. To talk to one of our team, click here, or call us on +44 20 7626 0516.