Achieve more with Microsoft and Core
In light of recent restrictions on students gaining real life work experience, Core teamed up with Microsoft and a Newark school to make a difference. If the students were unable to go out and get experience, we'd take the experience to them.
The initiative followed The Suthers School's successful adoption of Microsoft Teams during the pandemic, providing remote learning solutions to their students. Even now when the children are now back in school, homework is still delivered via Teams. Capitalising on the students' enthusiasm for Microsoft products, we delivered a technology-led work experience program that offered a unique insight into the real world and what it means to work in the technology sector.
Core's Marketing Director, Katie Sloan, and Digital Marketing Manager, John Weston, attended the school in Newark-on-Trent to run the program, organised by Suthers School Careers Lead, Helen Wroe, on 1-2 July. The program, designed to offer students a different type of work experience, included discussing organisational culture and values, as well as the different pathways into the technology sector that some of our Core team have experienced.
Both Katie and John have lived and worked abroad, and have had extensive, yet wildly diverse careers. Their own experiences were used to demonstrate that life is full of choices, and that the values we collect along the way shape us into who we are. For some, these values or drivers are financial or based on lifestyle choices, while others are driven to make a difference. The key takeaway, one that both Katie and John drove home anecdotally, was that each of our journeys differ; there is no right or wrong path, only choices and lessons that guide us towards the next destination. Katie finished with the following statement:
"Don't worry about needing to have your whole career figured out. I didn't become the helicopter pilot I wanted to be at 13, or the lawyer I wanted to be at 16, or even the fashion designer I wanted to be at 18. But I did try new things and I worked hard. I had my first job at 13, and 3 jobs at age 16. "I've worked for the Australian Government in communications and event management, ran my own successful online business, become a qualified project manager, a product manager and ambassador, then developed a marketing and successful partner management career in IT on the other side of the world to my home country.
My career choices have not defined who I am, but they fueled my energy. When you love what you do, it helps you become more creative, innovative and you work harder and smarter. Some of the best learning curves in my career have come from challenges or perceived failures. But the amazing people I have met and had the pleasure of working with, when I said yes to new opportunities and stepped out of my comfort zone, has been one of the best parts of my career growth. The more you let go of the idea of a career or position as a destination, and embrace the idea of constant learning, development and growth, the more fulfilling and exciting it will become."
In the afternoon of day one, the students were thrilled to have the opportunity to interview Microsoft Territory Account Manager, Helen Smith, (over Microsoft Teams of course), to ask questions about what it's like to work at Microsoft, and how the culture makes a difference to her day. When asked what she enjoyed most about working for the technology giant, Helen had the following to say:
"Microsoft empowers me both as an individual, and as part of a wonderful team, to make a difference to thousands of lives. Few organisations are able to offer opportunity at that scale."
In circa 1980, Microsoft's mission statement was, 'To put a computer on every desk in every home'. Technology has since evolved, and so too have Microsoft, who now strive to 'Empower every person and organisation on the planet to achieve more,' a sentiment that resonates through Helen Smith's message to the students.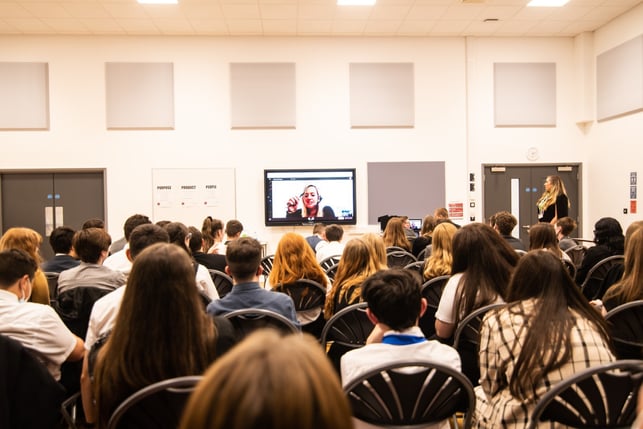 The two-day event was designed to be engaging and informative, while offering real insight into the working world and how best the students can prepare themselves. From real-life experiences and motivational videos to guest speakers, such as Helen Smith, and Core Sales Account Manager, Callum MacKay, the students were taken on a journey in lieu of their own work experience opportunity. They were taught how culture, values, and mission statements are vital to an organisation's solidarity, how our individual journeys shape us, teach us, allow us to grow, and how opportunities should be used to advantage. Following a moving and powerful motivational video on the topic of opportunities, John summarised his career in the following statement:
"When I left school, I wanted to be a musician, so I worked every job I could until I was good enough. Ten years later, after working on construction sites, driving cranes, driving cabs, being a plumber, and even working for an estate agent, I was good enough to play full time. Less than eighteen months later, I had my sights set on a new goal. I wanted to leave the UK. So, I put myself through an IT management course, and less than a year later I was living in Dubai. Another year later, I was running the Middle East operations of an international managed services provider, working for clients such as Facebook, Walt Disney, and Foster and Partners. I eventually took a job as Head of IT for an international architecture firm, where I set my sights on achieving an MBA whilst writing a book. I passed my MBA, which earned me the Head of Facilities role in addition to my IT position, and I finished writing that book. Since then, I've quit my job, I've written a further twenty-seven novels, and become an international bestseller. Now I choose to combine all those skills in a position I genuinely enjoy.
I took all those opportunities. Sure, I had help along the way, because we all need help. But the difference is, I created opportunities for myself. I didn't sit and wait for them to happen; I actively went out and created them. That's what you need to do."
At the end of the two-day event, the feedback from the students was extremely positive. One of the students, age 15, commented, "The best thing I have got out of this amazing opportunity is the chance to get advice from people who have been on different journeys, and get motivational information to help us achieve our goals."
Another student, age 15, commented, "I've learnt that working in any environment you should always treat people in a manner that is respectful and sell yourself well to people in the business you want to work for. After doing the Apprentice Project, I felt so much more confident, less stressed and less anxiety. When you spoke about how you got to where you are, you inspired me."
It was clear that both Katie and John's experiences, combined with Helen Smith and Callum MacKay's words of wisdom, gave incredible weight to the materials, program structure and insight from Careers Lead Helen Wroe.
In fact, the work experience program was so successful, that we plan to continue the effort, to develop a relationship with the school both supporting future generations and with a view to helping Microsoft align to their current ambitious mission statement, 'Helping every business and every person on the planet to achieve more.'
To find out how Microsoft Teams and Office 365 would benefit your school, contact our education specialists today. Just click the button below, fill in the contact form and we'll put you in touch with our Account Manager for the education sector, Callum Mackay.