Core's Smart Services provide the right cloud skillset in a changing market
There is a fundamental difference between how businesses operated five years ago, and how businesses operate today. As a result, IT leaders face a new set of challenges around the Microsoft Modern Workplace that Core Technology Systems (Core) seeks to address with a fresh, flexible service model, developed specifically for modern businesses.
The challenges businesses face today stem from the dynamism and fluidity of cloud solutions. Historically, businesses utilised simpler on-premise estates which were subject to fewer major updates and required dedicated specialised resources. For example, many medium to large businesses would employ Exchange specialists, security specialists, Active Directory specialists, storage specialists, and more. Even the end user estate would often require its own team working on various builds across a range of devices, which were often manual tasks. Each of those specialists would have a clear knowledge path to stay up to date with the latest features and accreditations. Subsequently, the IT team would be developed to suit the organisation's priorities and needs which varied from sector to sector. It was subject to less change and was more consistent.
However, in the cloud first model, rapid deployment of increased value through added feature sets and capabilities to cloud platforms is paramount. Customers expect platforms to evolve, and feature sets to grow. Whilst this does bring significant value to end users, it presents new challenges to IT teams in terms of increased volume of changes, and sustaining in-house capability and training.
There are functions within modern IT teams that still require a static dedicated resource, of course. But the number of the cloud solutions businesses rely on today, along with the volume of updates, sprawl of functionality, and additional features these solutions receive, means that if businesses were to employ specialists for every solution they use, they would have an even larger team than a decade ago. It is simply not a practical solution for many businesses. Even if one team member were to cover multiple disciplines, they just would not have the capacity to stay on top of the updates and features, and even if they did, the risk of losing that multi-skilled resource to a competitor and finding a large hole in your team, is greatly increased.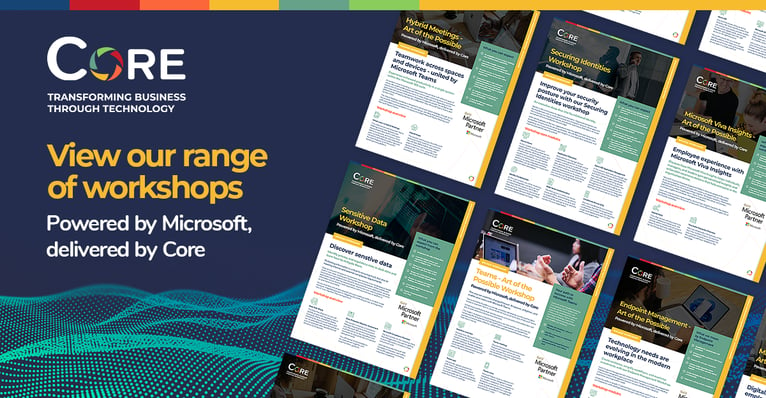 IT leaders, therefore, find themselves with an increasing variety of skillsets to retain. Add to those resourcing challenges the rising cost of recruitment, inflation, IR-35 rules, and the fact that remote working and cloud security is now deemed business as usual, and the challenges grow significantly.
So, what is the solution? Core's Chief Commercial Officer, Rye Austin, explains how Core is meeting the demands of its customers with a fresh new service.
"Few modest-sized businesses can cover the overheads for the high volume of cloud skills a modern workplace requires and entering into a managed service agreement for a fixed period is not always ideal, as the business requirements may be different in six months' time. Businesses need access to the right skillset, at the right time. It isn't practical to train in-house staff to deploy a cloud solution, that when done correctly, will be carried out just once.
This is where Core's Smart Services come in, providing access to Core's specialists across the Microsoft Modern Workplace on an on-demand basis. For example, using our Smart Support service, a customer may utilise an Exchange Online specialist at the start of their agreement. But by the end of the year, they may have come so far in their cloud journey that they are utilising our Power Platform specialists, or our SharePoint Online team under the single agreement. The services are pre-paid, akin to the retainer model of old, but offering far more flexibility and capabilities. This flexibility is the difference between Core's Smart Services and what the industry has historically referred to as Managed Services. The Microsoft Modern Workplace offers businesses freedom and the ability to flex. Why restrict those great benefits by implementing rigid and static legacy services to underpin them?"
Core's Smart Services have been created in response to customer requirements. These services address the journey businesses must take to include a combination of both strategic technical direction and execution, to build the roadmap and execute against it. Core's services provide more opportunity for specialist skills to be utilised as and when customers need them, helping to align the value of Microsoft investments to customer business goals under a single, flexible agreement.
Core's lengthy relationship with Microsoft and forward-thinking has allowed the company to develop solutions and services its customers truly need, with relevant and demonstrable outcomes.
In 2001, Core delivered the first UK instance of SharePoint. Since that landmark milestone, Core has grown from strength to strength and have recently been certified as a Microsoft Advanced Partner with Modern Workplace specialisations, in addition to being a finalist for five 2022 CRN Awards including Best Company to Work For under £100m, Best Sales Team, Best Marketing Campaign, Best New Business Win and the Over and Above Achievement award – a testament to the company's teamwork and success.
If you would like to talk to the experts about how Core Smart Services could benefit your business, arrange a call with one of Core's solution specialists through hello@core.co.uk or call +44 20 7626 0516.