How are recruitment agencies improving collaboration and employee engagement within their workforce?
By Hannah Newman - November 12, 2019
Day in the life of a recruitment agency
The primary goal for recruitment agencies is to place successful candidates in suitable job opportunities in order to make money. When you delve deeper into all the processes and activities required to achieve this, it leads into how we can make this process more efficient so that more profit can be accomplished.
To do so, we need to look into the challenges facing recruitment agencies. Some key areas which are common across most companies are:
Improvement of the recruitment process to ensure that the candidate has a good experience, the hiring process is shortened and that the organisation where the candidate is being placed is happy with their new employee.
Knowing where to advertise your services so that better quality applicants apply and so you are better known to companies who are hiring.
Improve staff retention - there tends to be a high turnover of staff internally and the workforce is made up of young employees; therefore companies are now having to make more effort to ensure that the staff remain engaged.
One way of addressing these challenges is to ensure that there is a centralised communication portal for employees, so that knowledge can be shared and processes can be streamlined to make it easier for employees to sell more!
What is Beezy and how can it help?
Core have partnered with a modern workplace partner, Beezy, who provide a dynamic 'intranet out-of-the-box' solution which focuses on four key elements: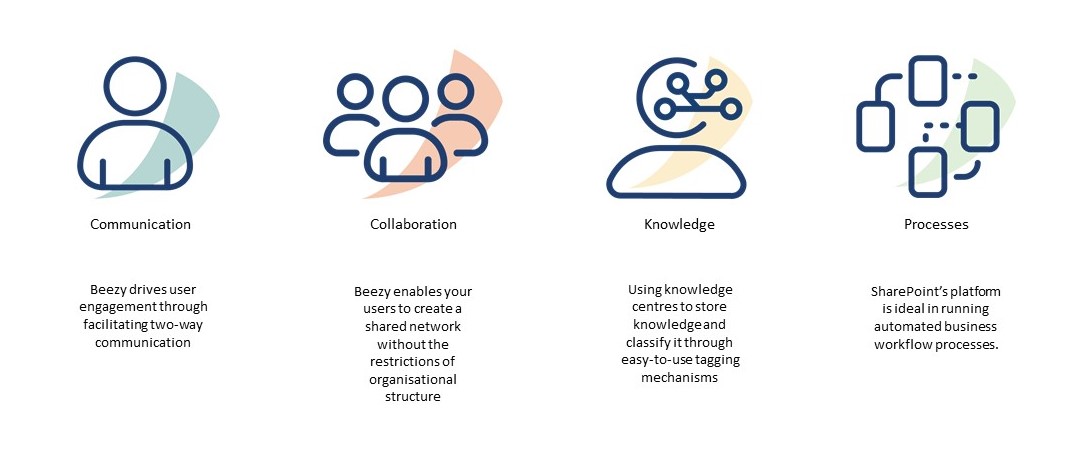 Beezy have incorporated the social platforms employees use on a day to day basis, such as Facebook and LinkedIn, but put a workplace spin on the product. The familiar architecture of the product is ideal for ensuring that the younger workforce remain engaged with the business. The intranet becomes an attractive site to visit so that when important company news is broadcast, you can feel more at ease that a larger audience have read the news. However, the site's structure is also simplistic, with a goal to ensure that it is 'user friendly'. This means employees who are not as comfortable using technology aren't alienated, and therefore supports cross generation engagement.
The key question is how will this help recruitment companies? When considering the challenges which recruitment companies face, Beezy's four main principles are a great starting point to provide solutions.
If we analyse the process of placing a new candidate within agencies, it's often a manual process of trying to find suitable candidates in internal databases. Recruiters don't always share the news of their placements, therefore, talent can be wasted as they might be ideal for another position.
Here's an example of how you could utilise the Beezy platform:
The recruiter will add information on the candidate into the Sales 'Community' page

This information will include their CV, high-level skills and any past experience they have

If the candidate is successful, a news article can be released celebrating the placement. The Sales team news channel will be selected so that the whole team is informed.
If the candidate is not successful, then the information is stored on the Beezy platform for others to view.
Another recruiter in the team can then use the Beezy bot to search for example skills and the candidate will pop up for them to try and place.
How can Core help?
Core are Beezy's only UK partner and therefore can help get the platform up and running. Unlike a traditional custom-build intranet, getting Beezy live only takes a few days.
Core have three fixed price packages with different levels of deliverables which can be found here. If you are unsure whether Beezy is the right solution for you or have any questions about the platform, then don't hesitate to get in contact for further information.