Survey results provide a wake-up call for an industry under stress
Overtired and under pressure: Core's survey results provide a wake-up call for IT departments
London, UK, 27th April 2020: Research exclusively published today by Core reveals high stress levels, long working hours and poor sleep patterns among the UK's IT professionals. With IT playing a critical role in maintaining business operations, the survey identifies key stress points and provides pointers for reducing the burden on IT teams.
Carried out at the end of February 2020, the independent research surveyed 257 IT professionals, highlighting an industry under pressure. Almost a third of IT pros find the job too stressful and an enormous 71% of respondents have less than two hours of genuine downtime per day. This leaves little time for life outside work, which in turn impacts sleep. In fact, almost two thirds get less than the recommended 7-8 hours' sleep on weeknights.
"We commissioned this report to find out just how bad sleep deprivation is for IT people," says Louise Mahrra, Head of Marketing at Core. "With IT beating at the very heart of organisations, the results provide a much-needed wake-up call to business leaders. The harmful consequences portrayed in this report not only take a personal toll on individuals but threaten organisations' performance and talent retention."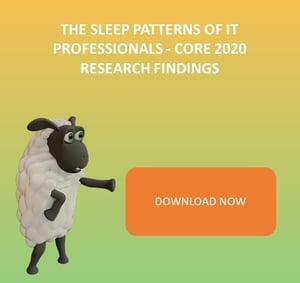 The effects of an exhausted workforce
The effects of the chronic condition of sleep patterns amongst the IT community are worrying. On a typical working day more than half wake up still feeling tired, sleepy or groggy, leaving them less motivated, less productive, and more error prone. In fact, 29% say they're more likely to make mistakes because of tiredness, and 17% feel they struggle to meet deadlines.
A new dawn
But there's good news. The survey uncovered clear steps for businesses to take to make sure IT pros head off to bed with a clear head – and get a good night's sleep.
Firstly, there's a positive link between the adoption of cloud technologies and people's work/life balance. The data also revealed that when IT folk are freed from the 'keeping the lights on' day-to-day tasks to focus on more strategic issues, there's a distinct upswing in their outlook.
The clear message is that outsourcing the daily pressures can help transform wellbeing among IT professionals – and get them spending some quality time in the land of nod. Every business is unique and will need to reach their own conclusions as to how to achieve this, however, the findings of this survey point to some opportunities:
Offer flexibility in working hours and styles, including remote working
Move as much as possible to the cloud
Consider a move to managed services as a way of transforming satisfaction of overworked IT staff
"Act now, and the benefits are plain to see: staff functioning at their very best – happier, more productive, higher performing and adding greater value," concludes Mahrra. "Good IT people are hard to come by – businesses can't afford to risk losing them by overworking and piling on the stress until they've had enough. This is one wake-up call that should not be put on snooze."
<ends>
Notes to Editors
The survey on the subject of work/life balance involved a self-completed online questionnaire conducted between 14-25 February 2020. Responses were received from 257 UK-based IT professionals working in businesses where the IT function supported 250-2,499 users. It was conducted by independent research agency Savanta on behalf of Core.
Core is a Microsoft Gold partner and managed services technology company for people and businesses who want to take control of their IT and to drive their business forward. It specialises in Microsoft 365 and provides a wide range of services, solutions and software to optimise Microsoft investments.
Press Contact
Louise Mahrra | Head of Marketing
louise.mahrra@core.co.uk | 0207 9533692