It's our mid-year edition of More Core and we have some exciting news to share!
We're thrilled to announce that we have just picked up two awards at the 2023 CRN Sales & Marketing Awards, for Best (Reseller) Marketing Campaign (for the second year in a row!), and Best Company to Work For (sub £100m)!!!
We could not be prouder of these achievements, after being selected as a finalist in five categories, including Best Sales Team, Best New Business Win, and the Over & Above Award for the Core Marketing Team. To win Best Company to Work For, is no small feat, and is an accolade that, we feel, speaks volumes about the incredible team we have assembled and the exceptional work we do every day at Core. To read more about what this award means to us, and some of the testimonials from our #OneCore team who love to look after you, our customers, please see our latest article here.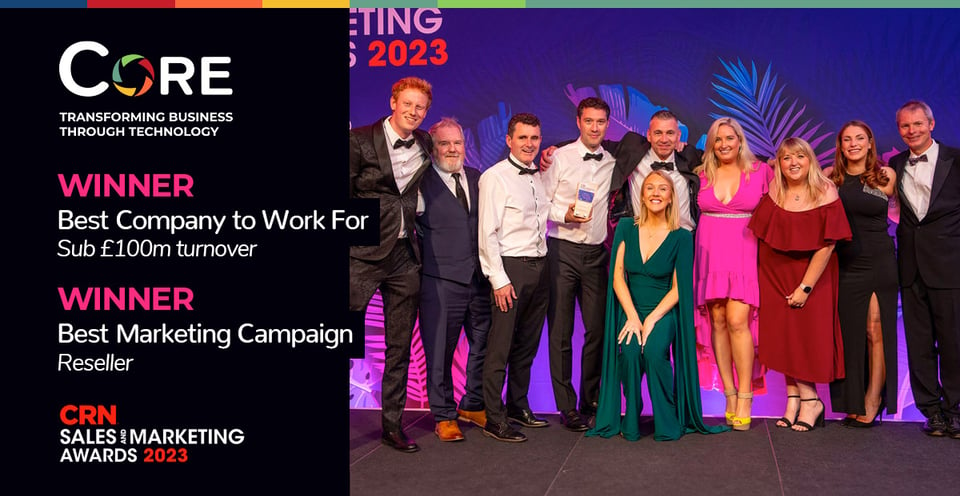 ---

Let's talk about you
Enough about us and our award-winning celebrations… let's focus on what we're doing for you, our wonderful customers and those of you we hope will become our customers! We have been working hard in 2023 on some new programs to help you address market and economical challenges, such as launching our Do More with Less campaign, focusing on how we can help you consolidate, automate, integrate…and ultimately, save money wherever we can help make efficiencies!
We've helped new customers optimise their Microsoft licensing, and even helped a new customer reduce their Azure billing by almost 40% in less than four months, through Azure optimisation managed services! We're developing our Microsoft Copilot solutions and service wrap, so you can get the most out of AI-enabled solutions in the Microsoft platform and across your business.



---
Enhancing employee engagement - what have you missed?
Working remotely changed employee relationships with their organisations, crystallising the importance of employee interaction and staff wellbeing, and highlighting how intrinsic this is to staff productivity, creativity, and resilience.
At the end of 2022, we surveyed the market to find out where employee engagement ranked in business leaders' current priorities.
Our findings clearly show that leaders consider the investment of time and money, into improving employee experience, is beneficial not only to individuals, but to their businesses as a whole.
Microsoft Viva combines learning, wellbeing, knowledge and organisational news in one package, through Microsoft Teams. It acts as a portal, helping employees navigate the complexities of working from home. Viva aims to help businesses connect with their people and improve wellbeing, learn about their needs and provide their teams with the knowledge and training they need.
If you haven't yet created a robust employee engagement strategy, or need to improve employee engagement and experience, Core can help you get started using Microsoft Viva and make sure you get the most out of the platform, as part of your Microsoft 365 subscription. Learn more here and request a free consultation.



---
Core Cloud Accelerator Workshops
In 2023, Microsoft have decided to end the Microsoft Cloud Accelerator (MCAP) workshop program (also known as the MCI program). However, we love to educate participants on the value of Microsoft technology, how it can support and benefit your business, and how we can help you make efficiencies and cost reductions without compromising productivity and employee engagement. So we're currently still offering cloud accelerator workshops to eligible businesses. Speak to your Account Manager about eligibility or contact us through our website today!
---
Core Blog Highlights
Have you missed some of our recent blogs? You might find some useful information to help you prepare for for the rest of 2023 – it's coming fast! See the highlights below and subscribe at the bottom of the page.


Are you saving money with Azure? If not, you're probably doing it wrong


When comparing on-premise computing to cloud computing, customers often make flawed cost-benefit analysis, leading to inaccurate results. Read more here


---

Unlocking business potential – E3 to E5

While E3 provides robust features and capabilities, many businesses may not realise the additional benefits they're missing out on by not upgrading to the E5 subscription. Read more here


---

The evolving landscape of the UK IT managed services market


The rapid advancement of technology, coupled with evolving market dynamics, has led to new trends and opportunities for public sector organisations seeking to enhance their operational efficiency and deliver better services to citizens. Read more here


---

5 Ways Microsoft Copilot can unlock efficiency and productivity in your business


Microsoft Copilot, an AI-powered tool developed by Microsoft, has emerged as a game-changer for IT leaders, offering unprecedented support and transforming the way businesses harness technology. Read more here
---

How do you prepare your business for automation adoption?

In the wake of the coronavirus pandemic, and amid a debilitating cost-of-living crisis, technology is increasingly becoming an integral way for businesses of all shapes and sizes to drive efficiencies without causing their costs to spiral out of control. Read more here


---

4 ways leaders can empower their people to get things done


The digital transformation in the workforce demands agile and resilient employees that can work efficiently and flexibly. But what does empowerment really mean in the workplace? Read more here
Feedback from our customers

"Core have been outstanding to work with. They really listened to what we were trying to do, talked through all of their ideas, and fully explained the pros and cons involved while taking into account our long-term business goals."

Jane Lovesey,
Programme Manager at Six Degrees

---

"It was apparent from day one that Core had a depth of knowledge in Microsoft 365, which we simply hadn't found anywhere else."

Stephen Warren,
Implementation Manager at David Lloyd Clubs

---

"There's such a good working relationship with Core, it's like having another permanent person in our organisation."

Simon Beale,
IT Development Manager at Angel Trains

---




"Antony responded promptly and resolved the request immediately. He is always friendly and professional to deal with."

Emily Henderson,
Continuum Advisory Partners

---

"Fantastic service was provided by the team and Aaron in particular. Speedy and friendly attitude. I couldn't be happier."

Kal Mitev,
The Law Society




Here's what to expect in the coming months
Facelift coming for Microsoft's Partner Program

You may already have noticed the 'Microsoft Gold Partner' logos disappearing from our website and communications collateral. Rest assured, this doesn't mean our status as a Microsoft Partner has changed. It's simply the program names and certification badges that are being updated. We are now called a "Microsoft Solutions Partner" with "Advanced Specialisations".
Since 1990, Core has worked hand-in-glove with Microsoft and, to this day, Core remains a Microsoft Cloud Managed Service Partner, specialising in Microsoft 365 technology, providing a wide range of services, solutions and software to optimise your Microsoft investments.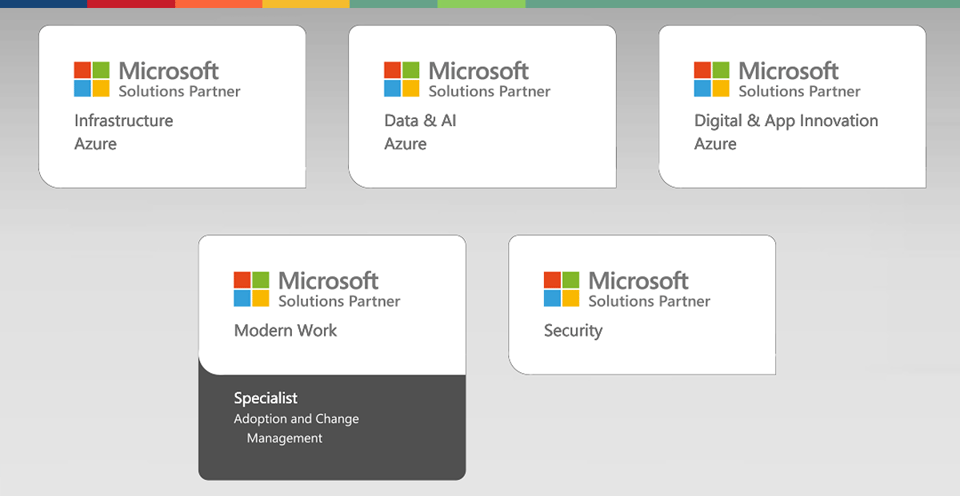 ---
Microsoft Inspire
The biggest partner event of the year for Microsoft is almost here, with Microsoft Inspire taking place on 18 & 19 July. Stay tuned into our social media pages on LinkedIn, Twitter and Facebook for updates on the latest from Microsoft and how we intend to help your business accelerate with AI transformation and development through the Microsoft platform, and new solutions, services, and initiatives to fuel your business growth, productivity and profitability. AI will be a key focus for 2023, with new AI solutions and information dedicated to industry sectors, cyber security and the wider Microsoft Cloud platform.



---
Events
We want to see more customers face to face, but we're still seeing lower attendance than pre-pandemic. We'd love your feedback on whether you'd be interested in attending more Core events – whether they are information sessions with networking drinks, or more focused round table discussions with your industry peers and representatives from Microsoft and our other partners. Prospects and customers can register their interest here for our upcoming events.



---
We look forward to working with you
We hope you all enjoy a holiday break at some point over the summer and get some downtime with family. We look forward to continuing to provide relevant, robust, secure and agile services to you for the rest of 2023 and the years beyond. If you have an upcoming project, or you'd like to talk to us about services to help support your business, simply contact us or get in touch with your account manager and book a business consultation.
Happy Summer days ahead,
The Core Team